Camels used in Sandbanks beach polo championships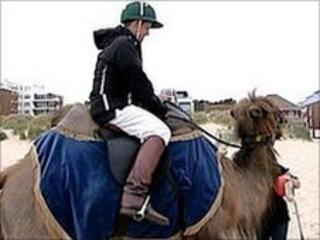 A beach polo event in Sandbanks features camels for the first time.
The camels, from Warwickshire, have spent several months in training for the two-day British Beach Polo Championships, which end on Saturday.
Organisers do not believe camels have been used in the sport in Europe before, but they have a long tradition in competitions in the Middle East.
Horses, which have been used at previous events, are also being used at this year's championships.
'Very versatile'
Riders at the event include Jack Kidd, who is the brother of the model Jodie Kidd.
Johnny Wheeler, one of the event organisers, said: "Polo has been played on camels for centuries.
"It's mainly played in the Middle East.
"Camels are very versatile and they neck rein [the way it is steered by the rider] in the same way that ponies do."