Bid to trace lost Robert Louis Stevenson manuscripts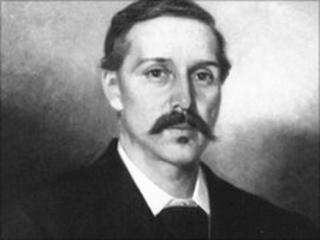 Enthusiasts hoping to trace the lost manuscripts of one of Scotland's most celebrated writers are gathering in Stirling.
The city's university is hosting a series of conferences to celebrate the life and works of Robert Louis Stevenson.
It comes after an unpublished article Stevenson wrote was found in Syracuse University library in the US.
About half of Stevenson's original manuscripts are missing.
The Edinburgh-born writer is best known as the author of Kidnapped, Treasure Island and The Strange Case of Dr Jekyll and Mr Hyde.
Many of Stevenson's papers were sold by his descendents during World War I.
They were also auctioned off in 1918 as part of a fundraising effort by the British Red Cross.
Among the lost works are the manuscripts of Treasure Island, The Black Arrow and The Master of Ballantrae.
Stevenson's unpublished article 'How Books Have to be Written' was submitted to a boys' magazine early in the author's career.
It was found in the Syracuse University Library archive recently.
'Clear eyes'
Dr Scott Hames, from Stirling University's English department said: "It's an interesting moment for Stevenson.
"During the course of the 20th Century there was a very large decline in his popularity.
"By the time he died in 1894, his was a massive success with a large audience and real respect among his contemporaries, including writers like Henry James.
"And then he went badly out of fashion around World War I and everything that was held to be good about him - his charm, his wit, his style - was all held against him."
Despite his initial precipitous decline, towards the later half of the century, Stevenson's popularity began to increase.
Dr Hames said: "I think some of the 'dis-esteem', the opposite of fashion, has drifted away from Stevenson and people are coming to him without those prejudices and they're seeing his work with clear eyes now."
A concert celebrating the musical impact of Stevenson and his work is also taking place at the university on Friday evening.
The sixth biennial Stevenson conference will run until Saturday.