Unions urge different approach as cuts debate continues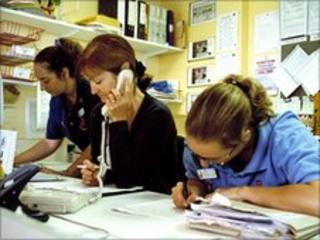 Trade unions are demanding an end to privatisation of public services and internal competition with the NHS as an alternative to planned spending cuts.
As George Osborne met workers who have suggested public sector savings, unions urged a different approach.
Unison said cutting jobs added to social costs and hit productivity and called for increased taxes on the rich.
Unite called for PFI-funded schemes to be axed and money spent on recruitment of nurses and health visitors.
Both unions have said they will wage campaigns against plans to cut spending across individual departments - excluding health and international aid - by an average of 25% in real terms.
Ministers have called for a dialogue with union bosses over anticipated public sector cuts and Business Secretary Vince Cable has praised the "positive" approach taken by unions in the private sector as businesses moved to cut their costs.
'Cosmetic'
Unions have dismissed the government's consultation exercise on spending - which was opened to the public on Friday - as "cosmetic" and said workers are being asked to conspire in a process which will lead to many losing their jobs.
Unison said cuts to public sector payrolls would be unnecessary if the government eradicated "real waste" and the wealthy were prepared to pay more in tax.
Among its money-saving suggestions are reducing the costs of staff sickness in the NHS by £500m, cutting the amount local authorities spend on agencies by £1bn, reducing the government's consultancy bill by £2.8bn and end private financial initiate (PFI) schemes which it says will recoup £3bn.
It also argues investment in the public sector will save money, saying 50,000 new cleaners could cut the bill for treating hospital-acquired infections by £1bn.
"Unison has shown how it can be done without making public service workers and our communities suffer," says its general secretary Dave Prentis.
Urging those on £100,000 salaries to pay more in tax and a £20bn tax on financial transactions, he added: "It wasn't a nurse or a social worker or a teaching assistant that gambled millions on the stock exchange and almost brought the economy down.
"So our members should not have to pay. It is time that those who have created the crisis paid for it."
'Grassroots campaign'
Unite have promised a "grassroots campaign" to defend local services such as libraries, Sure Start centres and swimming pools.
It says its members' alternative suggestions for saving money include scrapping the internal market in the NHS and bringing outsourced services such as bin collection and street cleaning back under public control.
Unite's Liz McInnes said the government consultation was a "colossal waste of time" as the NHS had been conducting a similar exercise for many years.
"We have embraced the concept of lean working for many years now," she said. "We do not need Cameron and Clegg to duplicate that activity."
Amid speculation about industrial action in response to public sector job losses, Business Secretary Vince Cable has drawn attention to what he says was the responsible attitude of unions to belt-tightening in the private sector.
He told the Times that the way that unions had worked with management to back pay cuts and flexible working as an alternative to job losses was a "miracle".
"Many of the unions deserve a lot of credit," he said. "They were extremely pragmatic and positive. I am not waving an axe at the trade unions. We have not had any problems with the unions in the private sector."