Over 5 billion mobile phone connections worldwide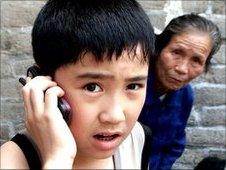 More than a billion mobile phone connections have been added to the global tally in just 18 months, according to Wireless Intelligence.
There are now more than five billion connections worldwide.
In many regions, penetration exceeds 100%, where there is more than one connection per person in the country.
Ben Wood, mobile phone analyst at CCS Insight said the mobile phone may be "the most prolific consumer device on the planet".
"If you just take the UK in 1987, when the first mobile companies launched, an industry insider predicted a maximum of 10,000 phones.
"Now almost every adult, child and domestic pet seems to have one, given that 30 million phones are sold every year in the UK," he said.
The four billion connections mark was surpassed at the end of 2008, and analysts at Wireless Intelligence predict six billion connections worldwide by the middle of 2012.
The Asia-Pacific region including India and China is the main source of growth, accounting for 47% of of global mobile connections at the end of June 2010, according to the firm.
"Five billion phones means there are more than three times as many phones as personal computers," said Mr Wood.
"This device has become part of the fabric of society, whether a teenage girl taking a Blackberry to bed with her, or a farmer in an African village trying to find out the latest crop prices."
He added that more than 10 billion phones have been sold worldwide since 1994, with market giant Nokia selling 3.4 billion alone.
"This means that there are 5 billion phones sitting in people's bottom drawers somewhere," he said.
In western Europe, mobile phone penetration has reached 130%, which Mr Wood attributed in part to mobile phone operators including in their statistics connections that have been dormant for many months.
"But often people have more than one phone, a home phone and a work phone," he said.
"The growth of connected devices will also drive this phenomenon, a laptop with a USB dongle, the Apple iPad, and so on.
"In the future, that market is likely to explode."
In rapidly developing eastern Europe, overall penetration is not far behind western Europe, at 123%, according to Wireless Intelligence.
Ian Fogg, mobile phone analyst at Forrester Research said: "An increasing number of phone users in emerging markets such as eastern Europe will use more than one SIM card in the same phone, in order to get the best deals."
"Some mobile companies are now launching mobile phones with more than one SIM slot to take advantage of this phenomenon," he said.
Mr Wood added: "As the eastern bloc crumbled, mobile phone networks were deployed, and people skipped fixed line telephones altogether, in favour of mobiles.
"We are likely to see a similar phenomenon in sub-Saharan Africa, though it will be limited by financial considerations.
"There are still levels of poverty there that keep the mobile phone unaffordable."
Related Internet Links
The BBC is not responsible for the content of external sites.