Brewing the Fermanagh monks favourite tipple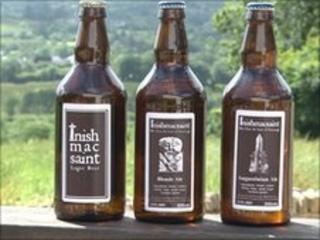 The beer making traditions of Irish monks who once lived on the islands of Lough Erne disappeared centuries ago.
But a local farmer is hoping to recreate the taste once enjoyed by the local monastic orders by setting up the county's first micro-brewery in the hills above Derrygonnelly in County Fermanagh.
Gordon Fallis of the Inishmacsaint Brewing Company began brewing commercially about a year and a half ago.
"We've linked ourselves with a local monastery on an island in Lough Erne called Inishmacsaint.
"We're actually in the parish of Inishmacsaint.
"In the past, the monasteries would have had a very strong tradition of brewing," he said.
"I'm not sure if they actually brewed out on the island but the likelihood is that they did.
"We're hoping to make that link with the past and carry on the brewing tradition in Fermanagh, following on from that."
Mr Fallis said they had begun brewing on a very "small" scale on his farm.
"We started off supplying just a local restaurant in Enniskillen, to test the market, really," he said.
Following interest in the locally crafted beer, he applied for a food innovation grant from Invest Northern Ireland.
"They have hooked us up with Loughry College near Cookstown, where we're trying to develop a new wheat beer, with the ultimate goal of expanding here on the farm ourselves.
Lyndon Beattie is manager of the Food Technology centre at Loughry College, where the wheat beer recipe is being perfected.
"It's not that complex to make a really cracking good beer," he said.
"Nevertheless, it's important to have some sort of basic brewing skills and really that is one of the things we're here at Loughry trying to do.
"We're trying to improve the skill level and trying to help small business develop in order to try and increase local employment and bring some of that character back to the brewing sector in NI."
Agriculture Minister Michelle Gildernew gave her support to the project.
"I think it's absolutely fantastic what Gordon is doing.
"The team at Loughry are on hand for many food businesses to get that technical advice, support, mentoring and all of the things that are so crucial to help develop the product, get it to market and support small businesses and farm diversification projects."
The wheat beer is the first of its kind in Northern Ireland while it is common in Germany and Austria.
Mr Fallis has his own idea on its origins.
"I have a theory, it may have been an Irish recipe originally.
"A lot of Irish monks would have travelled the continent in the early Christian period and some of them actually set up breweries in Germany, which are brewing wheat beers to this day, so I feel that we're going to try and reclaim the wheat beer for Ireland."
So does he have plans to export to countries such as Germany which are recognised internationally for the quality of their beer?
"I'd love to see that happen. I just hope it's up to the same standard that they can produce it."