Tombstoners had a 'lucky escape' in Isle of Man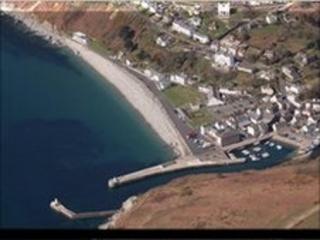 Young people seen tombstoning off the coast of the Isle of Man were lucky not to have been hit by boats, the coastguard has said.
Bathers were spotted hurling themselves from Laxey Harbour last week with local boat owners saying there were some "near misses".
Colin Finney, acting harbour operations manager, said the tombstoners had a "lucky escape".
Anyone caught could be fined or cautioned, he warned.
"All types of tombstoning, whether you are jumping from the edge of a quarry, cliff or a harbour are dangerous.
"You can either suffer from cold shock, misread the depth of the water, not see obstructions, get caught in a strong current or even get hit by a boat.
"We want to educate people to make sure they think twice about putting themselves in that kind of danger."
It is illegal to swim in harbour water.