Murder probe after garden fence dispute in Stockport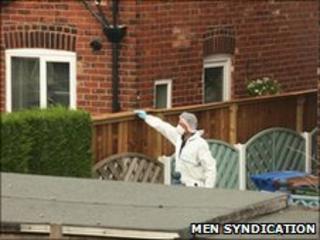 A man is being questioned by police in Greater Manchester after a row over a garden fence erupted into violence and his neighbour died.
David Fantom, 63, had been involved in an ongoing dispute over the fence with Donald Bowman, 56, neighbours in Windermere Road, Stockport, said.
Mr Fantom suffered head injuries during an assault. He died soon after in hospital.
A 56-year-old man was later arrested on suspicion of murder.
A post-mortem examination proved inconclusive and further tests will be carried out, police said.
Mr Fantom had lived at the house with his wife Elaine for about 30 years.
Mr Bowman had moved to his property around four years ago, neighbours said.
A 6ft (1.8m) fence was put up between the semi-detached properties recently and is believed to have caused friction ever since.
The fence had originally been around 5ft (1.5m), but Mr Bowman, wanting more privacy, is understood to have then put up the higher fence.
One neighbour, who asked not to be named, said: "David was a smashing bloke. He had only recently retired.
"I know he loved his garden. He was just a quiet bloke.
"All this over a fence, but for some people I suppose it is their boundary."
Another neighbour said: "Don got the fence put up in the last few weeks.
"The reason it's been put up, as far as I know, is they just wanted a bit more privacy. Some people are very private."
Det Insp Stephen Keeley said: "I would like to reassure the community I am treating this as an isolated incident.
"There are a team of detectives working on this investigation and if anyone has any information that can help us I would urge them to get in touch."