Chas and Dave to reunite for final tour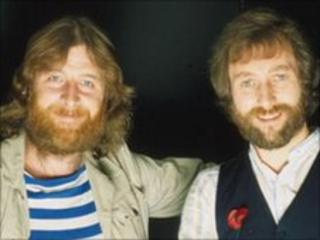 Music veterans Chas Hodges and Dave Peacock are reuniting for one last tour, less than a year after announcing they were splitting up.
In September, the duo - known for hits such as Rabbit and Snooker Loopy, said they were breaking up after the death of Peacock's wife Sue from cancer.
A statement on their site said: "The boys recently decided to get back on the road for possibly the last time."
They are expected to play over 30 dates across the UK.
Their publicist has confirmed they have shows lined up next spring in places including Cambridge, Reading, Wolverhampton and Liverpool.
So far, the only announced date is at the IndigO2 in London next March.
'Unavoidable circumstances'
The full statement on their statement said: "After Dave's much-publicised retirement from the band following the death of his wife Sue last year, the boys recently decided to get back on the road for possibly the last time together next year with a 30+ date tour."
Speaking to the Daily Mirror newspaper, Hodges said: "I was sat at Dave's house having a cup of tea and out of the blue he said he wanted to do a farewell tour.
"Dave felt he left in unavoidable circumstances and wanted to come back for one final tour."
Peacock withdrew from the group when his wife Sue, 62, lost her battle with lung cancer. They had been married for 36 years.
At the time, the duo announced their spilt, a statement said: "It's accurate to say that without Sue and [Chas's wife] Joan, there wouldn't have been Chas and Dave."