Four soldiers' names added to Crawley war memorial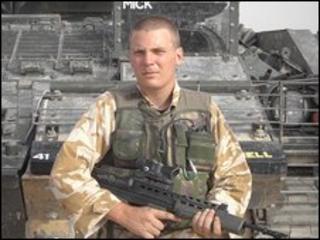 The names of two soldiers from Crawley who died in Afghanistan are being formally unveiled after being added to the town's war memorial.
Pte John Brackpool died after being shot during a battle in the Lashkar Gah area last year and Royal Marine Scott Summers in a road accident in 2007.
Friday's ceremony is taking place on the anniversary of Pte Brackpool's death. He would have been 29 on Sunday.
The names of two soldiers who died in World War II have also been added.
Crawley Borough Council agreed to add the names after Pte Brackpool's mother, Carol, asked if the town could commemorate his life.
"We thought it was the right thing to do to add his name to this memorial," said leader of the council, Bob Lanzer.
Special day
The white marble memorial is outside St John's Church in the centre of the town, where Pte Brackpool's funeral was held.
Mrs Brackpool said it would be a special day, but a very emotional one.
"It means a lot to me because it means Johnny has been recognised by the place he lived.
"He was a Crawley lad through and through. I don't think he would ever have left Crawley.
"It gives people a place to go to remember Johnny. It is a nice thing and it will be there forever."
The other names are being added at the request of the soldiers' families after the council launched an appeal to find those who had died in conflict and did not have a local memorial.
Marine Summers, 23, from 42 Commando, volunteered to drive his Pinzgauer vehicle as part of a routine convoy in Helmand province.
Gunner Jack Mills died in March 1942 and is buried in Ambon War Cemetery in Indonesia.
Gunner Leonard Elliott died in 1944 and is buried in Syracuse War Cemetery, Sicily.