Rare Textus Roffensis is shown at Rochester Cathedral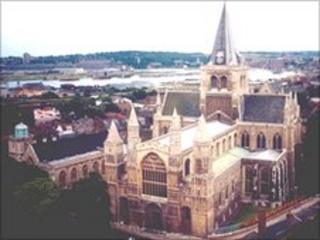 An Anglo Saxon manuscript said to have inspired the Magna Carta will be displayed in Rochester this month.
The Textus Roffensis, written in 1123 AD, last went on public display six years ago.
Medway archivists said the first part of the book contains a collection of Anglo-Saxon legislation, which influenced the barons who wrote the Magna Carta.
The second part contains Rochester Cathedral's oldest registers.
The full name of the work, which was produced by a monk and bound together some time after 1300, is Textus de Ecclesia Roffensi per Ernulphum episcopum, which is translated as the Book of the Church of Rochester through Bishop Ernulf.
'National treasure'
It is normally held in an archive by Medway Council but can be seen from 26 to 28 July in the crypt of Rochester Cathedral, which owns the manuscript.
Medway Council said the Textus Roffensis was named as one of the country's national treasures by the British Library in 2007.
It is going on display to coincide with an academic conference at the University of Kent's Medway Campus.
A festival is being held on 27 July as part of the conference called Totally Monked - the festival includes a trail around Rochester, opportunities to find out about monastic traditions, and a chance to view an old monastery in the town.