Swindon council gains access to Mechanics Institute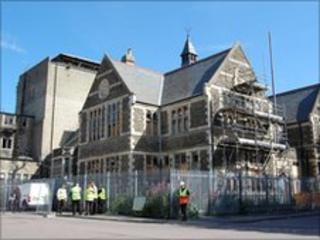 Swindon Borough Council has gained access to a 150-year-old listed building which is at the centre of a repairs row.
The historic Mechanics Institute is owned by businessman Matthew Singh who wants to develop the building.
He was served with an urgent works notice in December, to stop it falling into further disrepair.
The council obtained a warrant to access the building, but the keys were handed over before it was executed.
The authority said Mr Singh failed to submit a list of repairs, despite being asked to by 10 April.
It said the urgent works were required to make sure the Grade II-listed structure was weather-tight to prevent further deterioration.
Asbestos
The council said it would employ a contractor to carry out the work and recover the costs from the owner later.
Project manager Chris Green said the keys were handed to him on Thursday afternoon.
"I've opened the building without having to access the building," he said.
"We're not actually doing any work immediately, we're doing air sampling.
"The air sampling is to see if the air around the perimeter of the building is contaminated in any way because of paramount importance on this job is the health and safety of the public and the people who work on site.
"We know that there is asbestos in this building, we know that it's an unsafe structure, we know that there are fire risks."
Mr Singh has been unavailable for comment.