UK marine killed in Sangin district of Afghanistan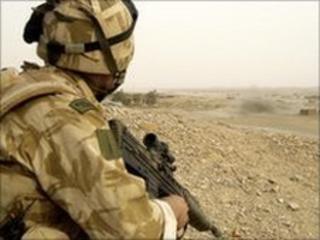 A Royal Marine has been killed in an explosion in Afghanistan, the Ministry of Defence said.
The death took place on Thursday in the Sangin district of Helmand province. Next of kin have been informed.
It takes the total number of British service personnel killed in Afghanistan since 2001 to 314.
The death - the 101st to occur in Sangin - came on the same day that a soldier from the 5th Regiment Royal Artillery was killed in the area.
Speaking about the Royal Marine, who was from 40 Commando, spokesman for Task Force Helmand Lt Col James Carr-Smith said: "He was part of a joint foot patrol, along with his fellow Marines and Afghan National Army partners, when he was struck by an explosion.
"He died a marine, in the course of his duty and whilst improving the lives of local nationals in Sangin. His bravery and sacrifice will not be forgotten. We will remember him."
Defence Secretary Liam Fox said on Wednesday that UK forces would be withdrawn from Sangin district in the autumn.
A US Marines battle group will be moved from Nimruz province to take control of the area.
The handover will leave the British military effort concentrated in central Helmand, which covers a relatively small area but is home to a third of the province's population.