Speculation over Warwickshire fire closures 'unfair'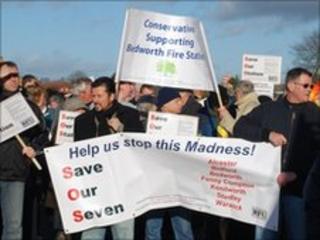 It is unfair on staff and on the public to speculate about the closure of fire stations in Warwickshire, the county council has said.
It was revealed on Thursday that four out of seven stations under review in the county could close.
Warwick, Bidford, Studley and Brinklow could all be shut if the plans are approved by the county council.
The council has said it will release its proposals on Monday with a decision being made on 20 July.
BBC Coventry and Warwickshire revealed three options are being put forward.
Option one earmarked Warwick, Bidford, Studley and Brinklow for closure with Bedworth losing a fire engine which will be replaced by a smaller vehicle.
Local knowledge
A second option would include the closure of stations at Warwick and Brinklow, with Bedworth again losing one of its engines.
The final option involves the closure of at least two stations, but it is not clear which.
A statement from the council said it had considered the views of the people in the county.
At a meeting last night Charles Tew, a parish councillor for Brinklow and also a former retained firefighter, said having a crew in the area with local knowledge was invaluable.
"It's not just for Brinklow, it is all the surrounding villages," he said.
"It's the local knowledge that they men have acquired over the years.
"We get brigades come out from Coventry or Rugby and they don't know the area, they don't know the roads which may not appear on maps."