Champagne lifestyle of Shakespeare folio accused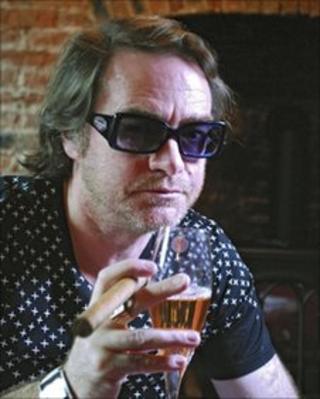 Antiques dealer Raymond Scott has been cleared of stealing a rare copy of Shakespeare's First Folio.
Scott lived a champagne lifestyle and boasted of international business interests and homes in Monte Carlo and Lichtenstein.
He wore designer clothes, smoked Cuban cigars and had a taste for vintage champagne funded by the fraudulent use of a string of credit cards.
The real Scott was a middle-aged convicted thief, with convictions going back more than 20 years.
He had never worked and racked up credit card debts of more than £90,000.
In reality his only legal income was from state benefits.
He has been cleared of stealing the folio, but convicted at Newcastle Crown Court of handling stolen goods.
He believed he could sell it, use the money to clear his debts and lead a millionaire lifestyle for real.
But he was caught out by the dedication of specialists devoted to the study of Shakespeare and the fact the theft 12 years ago had never been forgotten.
Experts at the Folger Library in Washington DC, US, immediately recognised the folio as the one stolen from Durham, north-east England, and the British Council and FBI were informed.
Durham Police became involved and within weeks a team of officers were knocking on the door of a modest house in Washington, Tyne and Wear, where Scott lived with his elderly, widowed mother.
Det Insp Mick Callan, head of Durham Police's major crime team, said Scott's arrogance had been immediately apparent to all who had come in contact with him.
Mr Callan said: "He told officers, 'I'm an alcoholic and need two bottles of top-of-the-range champagne every day, but only after 6pm. I hope you have some in the police station.'
"He was confident, arrogant and dismissive in his first interview, telling officers he was not there to talk to them.
"His manner was indignant and quite abrasive. He had been locked up before so it wasn't new to him and he knew the system.
"He was quite combative towards officers, telling them, 'I don't have to answer your futile questions'."
His story that he had discovered the folio in Cuba quickly crumbled.
The use of credit card receipts found at his house enabled police to hunt out CCTV footage at a number of up-market stores, showing him buying expensive shoes and clothes at the times he was supposedly in Cuba.
Mr Callan added: "We identified where he was, what he was buying, his travel arrangements and even what he took out in luggage.
"Everything he claimed was a lie and we could prove it.
"In his final interviews he turned from being a confident man into someone who was totally frustrated.
"He literally moved himself into a corner of the interview room as he realised he could not escape. His story was completely and utterly blown out of the water.
"He knew he had been exposed as a liar, a fantasist, a fraud and a thief."