Berkshire massage parlour sign planning protest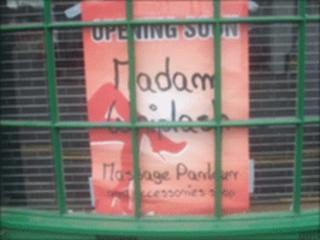 A man who was refused permission to open an Italian restaurant in Berkshire has said he is now considering opening up a massage parlour instead.
Paul Oldring put up a sign saying the "Madam Whiplash Massage Parlour" would be "opening soon" at the former off-licence in Thatcham, after his restaurant application was refused.
Residents said they hoped the sign was a joke but Mr Oldring denied it was.
West Berkshire Council said he could not open a parlour without permission.
Mr Oldring has yet to submit any proposals about opening a massage parlour.
His request to open a restaurant at the former Threshers shop in The Broadway was turned down by councillors on the basis there were already too many restaurants in the area and not enough shops.
He added: "I would rather open an Italian restaurant and have two tenants for it.
"But the council has refused permission and told me it has to remain as retail
'Wrong message'
"I can't understand why, as we come out of the recession, why the council aren't prepared to change the usage and allow a restaurant."
Maggie Milani, owner of Beauty At Tiffanys, said: "If it is not a joke and instead a bona fide massage therapy centre with qualified staff, then why not?
"But if on the other hand it is not, then there clearly is a concern.
"I think the more shops the better but it is giving out the wrong message and he is in danger of alienating people."
A spokesman for West Berkshire Council said: "The shop already has planning permission for usual retail use.
"Under the normal course of things you wouldn't have to do anything if you wanted to open a shop.
"However we have contacted the owner of the premises because of the nature of what he is proposing to do there.
"He would need specific permission and we have told him he must submit that and told him not to start operation until the permission is granted this."