Thrill as Harlech pool wins £800,000 backing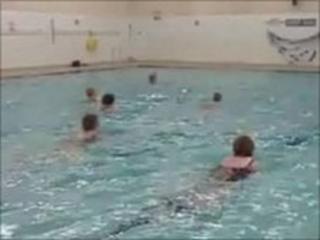 Swimmers have secured £800,000 in Lottery funding, effectively keeping their pool afloat.
For the last three years the future of Harlech Pool has been in doubt after Gwynedd Council decided it could no longer afford to run it.
Now a community group set up to take over the pool has secured the money.
A church group also secured £798,000 to build a bowling alley in a Carmarthen old cheese packing plant and £775,000 goes to a Cardiff circus project.
The money has come from the latest round of funding from a partnership between the Big Lottery Fund and the Welsh Assembly Government.
Richard Holland, a member of the steering committee organising the transfer of the pool to community ownership, said it was vital to the health of many people in the area.
"I'm absolutely elated. We're all thrilled at getting this grant. But we know that the hard work starts here," he added.
"We've been meeting regularly in the last few weeks to make sure we know what needs to be done to transfer the pool to community ownership, and we'll now be making sure that we get moving as quickly as possible.
"We've had a good partnership with Gwynedd Council in the last year, and we're grateful for their tremendous support. Everyone is keen that the handover should be as smooth as possible.
"There's been a lot of hard work done by many people to save the pool. Now we need the community to get behind the pool and help keep it a success for the future."
The money will be used to repair the pool and to build new facilities such as a climbing wall and cafe to give the pool chance of being commercially viable.
Gwynedd council has continued running the pool in the interim.
Meanwhile the Towy Community Church Trust in Carmarthenshire has been awarded £798,000 to build a bowling alley on the former St Ivel cheese packing plant in Carmarthen.
It will also include a food bank, giving food parcels to needy families, and also a furniture recycling facility. Future development will see the creation of a cafe and conference centre.
NoFit State Community Circus in Cardiff has been awarded £775,000 to transform school rooms attached to the Trinity Methodist Church in Adamsdown into a centre for community circus education and training.