Cornwall voted 'most scenic' county in Britain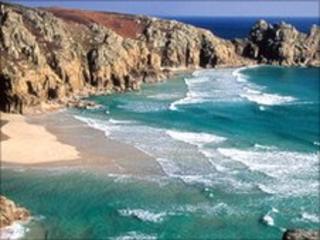 Cornwall has been hailed as the "most scenic county" in Britain.
According to a survey, its rugged coastline, sandy beaches and windswept moor lands persuaded 65% of those polled to put it top.
The weather and the quality of Cornwall's tourist attractions were also highly rated in the survey carried out by a satellite television channel.
Devon came second, followed by Cumbria, north Yorkshire and Dorset.
Almost 75% of those polled expressed an interest in visiting Cornwall in the coming year, citing it as best for hospitality and scenic views. They also thought it contained the nicest towns and villages.
When the Blighty TV survey asked how Britain's natural beauty compared to that of the rest of Europe, most said the British landscape was as scenic as or better.
The main reasons highlighted as possibly putting tourists off from visiting the British Isles were weather, high costs of transport and the exchange rate.