Woman rescued from severe blaze in Shrewsbury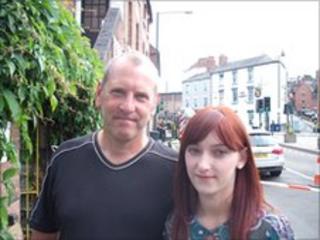 A woman has been rescued from a severe fire which broke out at a house in Shropshire.
Emergency services were called to Severn Terrace, in Smithfield Road, Shrewsbury, during the early hours of Friday.
Sam Smith, 18, escaped by jumping from the top floor of three-storey house.
Fire crews said smoke was billowing from every floor of the building and flames were coming out of the door when they arrived.
A West Mercia Police spokesman said the two people were taken to hospital.
Rob Corfield, of Shropshire Fire and Rescue Service, said fire crews had managed to rescue the woman, in her 20s, from a first-floor bedroom.
A West Midlands Ambulance Service spokesman said Mr Smith was treated for a broken wrist, back pain and smoke inhalation before being taken to hospital.
His sister, Laura, was treated for smoke inhalation after being rescued.
He added that crews had managed to stop the fire from spreading to the house next door.