Palace honours Midlands battalion's soldiers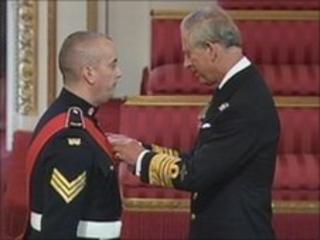 Eight members of a Midlands Army battalion have been honoured at Buckingham Palace.
Three soldiers from the 2nd Battalion The Mercian Regiment were awarded the Conspicuous Gallantry Cross, while four received the Military Cross.
Lt Col Simon Banton, the former commanding officer, became an OBE for his work as the Army's chief mentor to the Afghan forces.
The unit is one of the most experienced in Afghanistan-based operations.
One of its main roles is to train and advise the Afghan National Army (ANA) and it has completed three tours of duty in the past five years, losing five soldiers during its last tour in the summer of 2009.
Among those receiving Conspicuous Gallantry Crosses was Sgt Marc Giles, from Nottingham, who ran across open ground to rescue a casualty after the patrol was ambushed by the Taliban.
He later co-ordinated the patrol's defence while under fire, and despite having been blown off his feet by a bomb blast.
Sgt Alan Dennis, from Melbourne in Derbyshire, and L/Cpl Kyle Smith, from Nottingham, were also awarded gallantry crosses.
Sgt Dennis was hit by a rocket-propelled grenade when he was trying to pull a member of the Afghan National Army (ANA) to safety.
The 36-year-old said: "Me and another went out to rescue them. One was injured so I picked him up and dragged him back to compound.
"I went back for the second one and a rocket-propelled grenade came in. It landed very close to me and broke all of my left arm and my shoulder but I still managed to drag him back under fire."
L/Cpl Smith, 22, was out on patrol in July 2009 when his unit was attacked by insurgents using rocket-propelled grenades and guns.
Almost immediately, several personnel were injured and L/Cpl Smith ran more than 100m to save two fallen soldiers.
He said: "To find out I was being awarded was unbelievable.
"It is an honour to get the Conspicuous Gallantry Cross. I was really happy and glad to be awarded such a medal.
"I will wear it but it won't just be for me. It will be for everyone in 2 Mercian who was there on that day."
Major Neil Grant, from Mansfield in Nottinghamshire, Capt Edward Brown, from Tenbury in Worcestershire, Pte Alexander Kennedy, of Bromsgrove, also Worcestershire, and Cpl Craig Adkin, a medic, received Military Crosses.
Pte Kennedy, who administered first aid to a colleague while under "ferocious small arms fire" has been praised by superiors, who said his actions were "all the more impressive from a private soldier with six months' experience in the Army".
The battalion, which recruits from Derbyshire, Nottinghamshire and Worcestershire, was formed from the Worcestershire and Sherwood Foresters in 2007.