Wind blade manufacture to return to Isle of Wight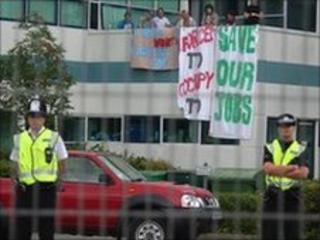 Wind turbine blade manufacture is set to return to the Isle of Wight almost a year after firm Vestas shut its factory with the loss of 425 jobs.
Workers lost their fight to save the Newport site after an 18-day sit-in.
Sean McDonagh, who played a big part in the protest, has started a business venture which could see microblades being made at a new site in Newport.
He hopes the firm will be operating within a month and said it already has a "significant order book".
Sure Blades Ltd has been set up with Dorset-based businessman Keith Hounsell.
'Rekindling knowledge'
The firm has entered a contract with C&F Green Energy to produce a blade mould.
Mr McDonagh, who worked at Vestas for three years, said: "During the protest I was approached by Keith and 11 months on we are about to start our own manufacturing of microblades.
"The turbines we are building will fill a niche in the market.
"You could be running your house or business premises from the power created by these blades.
"Vestas was all about going bigger and bigger but we are looking at the smaller end of the market which we think has great potential."
He also hopes to start employing ex-Vestas workers in his new venture.
"For some companies it is a disadvantage being on the island but the skill pool that is still here is why we are here.
"We are rekindling that knowledge."
Vestas blamed the job cuts on a lack of demand in the wind industry in Britain, but said the firm went "well beyond other companies" to help those who were made redundant.