Norwegian firm seeking offshore wind turbine trial site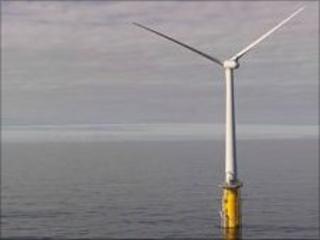 A Norwegian company has started a search for suitable sites off the Scottish coast where it could run trials on offshore wind turbines.
Potential locations for up to five demonstrator turbines include in the sea off the Isle of Lewis.
BBC Alba understands state-owned Statoil has looked at eventually building two giant farms in the Minch off Lewis.
The firm would not comment on the bigger project.
Statoil spokesman Janni Lindbaek said it was running a feasibility study on the creation of a "demo park" comprising three to five turbines somewhere off the shores of Scotland.
He said: "We are evaluating several locations for this and off Isle of Lewis is one of these places.
"We would do that in order to study how we can scale this in the future, but what we are currently looking at is a demo park."
Floating turbines
BBC Alba has reported that eventually two giant wind farms could be built in the Minch.
One of the farms would be sited just off the Point area near Stornoway, while the other would lie further north between Ness and Cape Wrath.
Statoil will hold a meeting on Lewis in two months time but some residents have already expressed opposition.
The 320 turbines over two sites would cover 115 square miles (300 sq km), BBC Alba understands.
Fishing boats and shipping would be excluded from the wind farms.
The 120-turbine development off Point would be close to shore, while the slightly larger development further north would be midway between the Butt of Lewis and Cape Wrath.
Statoil proposes to use floating Hywind turbines moored to the seabed.
Residents in villages overlooking the area say it would be too big, would spoil the view and there would be no return for onshore communities.