Millions affected by hosepipe ban in north-west England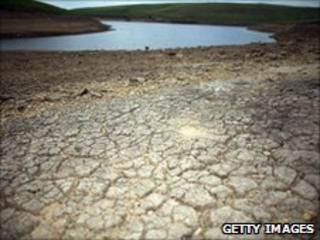 A hosepipe ban has started in most of north-west England - the first time in 14 years.
The region has had the driest start to the year since records began in 1929, United Utilities said.
The temporary ban, imposed by the water firm, came into effect at 0600 BST and will affect millions of householders in parts of Cumbria, Greater Manchester, Lancashire, Merseyside and Cheshire.
Anyone caught flouting the ban could be fined £1,000.
Reservoir levels have plummeted in recent months, with many only half their capacity.
Bucket and sponge
John Sanders, from United Utilities, said: "Despite some recent rainfall in the north of the region, reservoir levels are still significantly lower than we would expect at this time of year and are now at a point where we need to impose some temporary restrictions on our customers.
"It is not a decision we have taken lightly, but a hosepipe can use as much water in an hour as a family of four would use in one day.
"This ban will help us to safeguard essential water supplies to our customers if the drought continues."
The ban will restrict the use of hosepipes or sprinklers for watering private gardens and washing private cars - but businesses will not be affected.
People can still water their gardens with a watering can and wash their vehicles using a bucket and sponge, which use a fraction of the amount of water that a hosepipe or sprinkler does.