Caen Hill lock gates reopen after damage caused by boat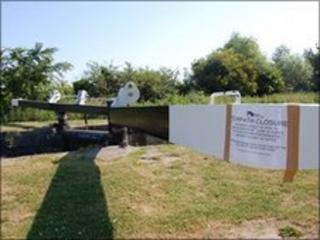 Lock gates on a Wiltshire canal which were destroyed when they were hit by a boat two weeks ago are to be reopened.
The Caen Hill gates in Devizes were damaged on 22 June and the stretch of water between locks 22 and 24 was shut.
British Waterways has already installed 16 news gates as part of a £500,000 refurbishment programme on the Kennet and Avon Canal.
The damaged gates were due to be replaced next winter but have now been fixed earlier.
'Tricky job'
Mark Stephens, of British Waterways, said: "No repair is simple. It's a structure that's 200 years old.
"It was a tricky job and the team has done exceptionally well to manage to make these gates fit.
"We managed to find some gates from a different lock that would fit, nearly.
"Obviously when you're making gates fit nearly, there's quite a lot of work involved."
The lock gates were reopened at midday.