Search for Raoul Moat intensifies amid public threat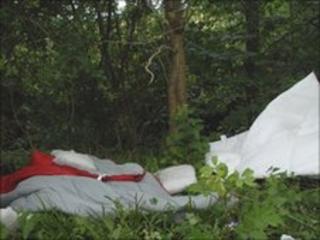 The search for fugitive gunman Raoul Moat has taken on a new level of urgency after he made threats to the public as well as police.
Moat has been on the run for seven days, with armed officers focusing on the Rothbury area of Northumberland.
Moat, 37, is wanted over the shooting of his ex-girlfriend, her new partner - who was killed - and a police officer.
Police confirmed they responded to potential sightings of Moat in the centre of Rothbury early on Friday.
A Northumbria force spokesman said inquiries into the latest possible sightings were being investigated.
Officers have been stationed at Rothbury's three schools after concern was expressed at a public meeting on Thursday.
Police revealed on Thursday the suspected killer had made threats to the wider public. Previously it had been thought his grievance had been directed only towards the police.
The force said "high-profile" search activities continued throughout Thursday night and into Friday - including the use of thermal-imaging equipment on its helicopter.
An RAF Tornado GR4 with a raptor pod, which has an infrared camera for surveillance purposes, was also deployed overnight.
New pictures of Moat's campsite outside Rothbury were released by police on Friday.
The images show a duvet, tent and sleeping bag which were found after the arrests of two men who are accused of helping Moat.
Det Ch Supt Neil Adamson said: "We believe this camping equipment was left behind by Mr Moat and others just before the arrests of Karl Ness and Qhuram Awan.
"We continue to follow up information we receive from the public, and we believe Mr Moat is still in the Rothbury area."
Temporary Deputy Chief Constable Jim Campbell added: "We are using a variety of tactics in our continuing efforts to search for Moat.
"Our intention is and always has been to apprehend him safely and bring this inquiry to a conclusion.
"As well as firearm officers, specialist search teams and resources from other forces, we have been using the force helicopter's thermal imaging technology to assist our search."
He added: "It's highly probable he is still in Rothbury and that's where we are focusing our activities.
"We are following up all lines of inquiry using all available resources and a number of different tactics in an effort to apprehend him."
Police held a meeting with local people at Rothbury's Jubilee Hall on Thursday evening and told them there was a heightened risk but that no specific threat had been made to the town.
They urged residents to "close your doors, close your windows" and avoid unnecessary travel.
Mr Adamson said: "Information has come to our attention about a wider threat to the public from Mr Moat. I am not prepared to comment further on this."
Police have also agreed to station officers outside the town's three schools to reassure parents and pupils.
Mr Campbell said: "The community has told us they would like to see officers in Rothbury's three schools, so from this morning that will be in place.
"Although we have said information we have received indicates Moat may pose a threat to the wider public, there is nothing to suggest he is intending to target a specific part of the community.
"Our message is to go about business as usual but be vigilant.
"The search for Moat is continuing and although we still believe him to be in the Rothbury area, activity is still taking place across the force. If you see anything suspicious report it to police immediately by dialling 999."
Two men arrested on suspicion of assisting an offender in the Rothbury area on Wednesday have been released on bail pending further inquiries.
Two other men, Karl Ness, 26, from Dudley in North Tyneside, and Qhuram Awan, 23, from Blyth in Northumberland, appeared before magistrates in Newcastle on Thursday accused of joining Moat on a hunt for policemen to shoot. They were remanded in custody.
Police believe Mr Ness and Mr Awan were with Moat when he shot Pc Rathband. But lawyers for the pair deny their clients were involved.
Moat, from the Fenham area of Newcastle, is alleged to have shot and injured his former girlfriend Samantha Stobbart, 22, and killed her new partner Chris Brown, 29, in Birtley, Gateshead, on Saturday.
Pc David Rathband, 42, was shot in his patrol car in Newcastle on Sunday.
On Thursday, police released CCTV pictures of Moat in a B&Q store in Newcastle on Friday, 2 July, in which he had a Mohican-style hair cut.