WI lands £1m Universal Records music deal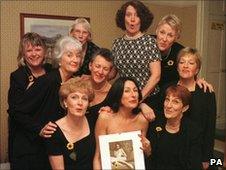 The Women's Institute (WI) is mounting an assault on the music charts after signing a £1m record deal.
Universal Records, which has Lady GaGa and Amy Winehouse on its books, will recruit a group of WI singers following an X-Factor-style contest.
It is the organisation's latest attempt to shake off its fusty image and recruit younger members.
In 1999 members of a Yorkshire branch posed naked for a fundraising calendar, inspiring the film Calendar Girls.
A quintet of WI singers called The Harmonies will record the debut album to mark the institution's 95th anniversary.
Judges will announce the line-up in September - a month before the album's release date.
The search for the group began in February when the WI's 205,000 members across 6,500 groups were asked to send in demos.
Judges drew up a shortlist of 30 finalists after whittling down 600 recordings of Jerusalem - the stirring anthem traditionally sung at the beginning of each WI meeting.
A version of the song will appear on the album of "classics", Universal Records has said.
Last week the finalists performed live to judges at London's Abbey Road studios.
The WI was formed in 1915 to revitalise rural communities and encourage women to produce food during World War I. They are most often associated with jam-making.
Since then it has evolved into the UK's largest women's voluntary organisation, campaigning on certain issues and building new skills.
On 7 June 2000, the WI slow handclapped former prime minister Tony Blair as he delivered a speech at the WI conference.
Some heckled and others even walked out because they considered his speech to be too long and too overtly political.
Related Internet Links
The BBC is not responsible for the content of external sites.