Russian agents downbeat in New York court appearance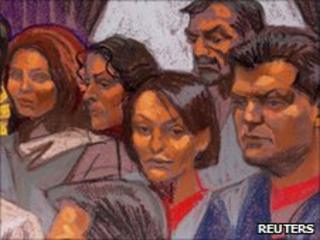 In a courtroom packed with supporters, media and the FBI agents who had pursued this case for a decade, the five men and five women appeared sombre.
Some of the women, in particular, looked worn.
Anna Chapman - the glamorous redhead who had graced so many newspaper pages - looked a far cry from her appearance in her seductive Facebook profile.
Sitting in a beige and orange prison jumpsuit without make-up, she appeared small, but answered the judges' questions with a strong voice.
Two of the married couples sitting in the dock comforted each other before proceedings started, holding hands and smiling at one another.
Life ahead
The 10 answered federal judge Kimba Wood's answers in various shades of a Russian accent.
Only Vicky Palaez - a Peruvian-born newspaper columnist - needed an interpreter to narrate proceedings in her native Spanish.
Her husband, supposedly a Peruvian citizen called "Juan Lazaro", admitted in court that he was a Russian agent called Mikael Vasenkov.
There was a glimpse of the life that awaits the 10 when they are immediately returned to the country they tried to provide information to.
The lawyer for Ms Pelaez said Russian officials had promised her a lifetime monthly payment of $2,000 (£1,320), free housing, and all-expenses-paid visits from her children.
It is unclear if the other nine were given a similar deal.
'Difficult decision'
Outside the court, Anna Chapman's lawyer said she had been promised nothing - just a ticket to Russia back to her family, her short-lived adventure as a Russian agent now over.
Robert Baum said his client had agonised over the guilty plea.
"I can tell you it was a difficult decision for her - one that included consideration of the conditions of her detention, which were extremely harsh," he said.
He said she had been kept in a solitary confinement cell since her arrest.
"Miss Chapman only received her information about the media coverage of her conduct in this case from me.
"She was surprised by the extent of the coverage."
His client would have preferred to stay in the US, he added.