US basketball star LeBron James to move to Miami Heat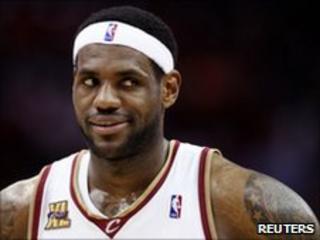 US basketball star LeBron James will play for the Miami Heat next season, he has announced live on television.
The 25-year-old forward revealed he would leave the Cleveland Cavaliers to join the Heat in Florida this autumn.
His decision, announced on US sports network ESPN, ends the biggest player transfer drama since Cristiano Ronaldo signed for football team Real Madrid.
James, a seven-year veteran of the US basketball league, may earn as much as $16m (£10.6m) a year in the new deal.
He is already considered one of the greatest basketball players ever.
Several cities, including New York and Cleveland, Ohio, made high-profile appeals for James to join their sides.
President Barack Obama, who spent most of his adult life in Chicago, said this week that he hoped James would join the Chicago Bulls.
James, an Ohio native, said his heart would always remain in that state, where he spent the first seven years of his professional career in the National Basketball Association (NBA).
"Winning is a huge thing for me," he said in explaining his decision. "I want to be able to win championships and I think I can compete down there."
James said he had made up his mind on Thursday morning after discussing the move with his mother.