Church of England general synod debates women bishops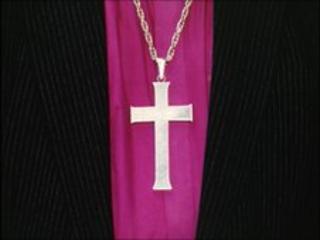 The Church of England's governing body is meeting in York to try to find a way to introduce women bishops without driving Anglicans apart.
The general synod will discuss plans aimed at giving traditionalists enough exemptions from serving under a woman.
But liberals in the synod have said they will not accept any measure that dilutes women bishops' authority.
There is also a growing row over a decision to block the appointment of a gay cleric as Bishop of Southwark.
'Extra' bishops
Some of the traditionalists have threatened to convert to Roman Catholicism over the issue of female bishops.
At the centre of the row are plans for "extra" or "nominated" bishops appointed to look after those parishes which do not agree with the appointment of women.
It has been suggested that these bishops could derive some of their powers from the law, rather than the bishop of the diocese, who might in the future be a woman.
Supporters of that plan say they should be able to call upon a male alternative to carry out important functions such as ordaining new priests.
But opponents say that would turn women into second-class bishops and deprive them of their rightful authority in their own diocese.
BBC religious affairs correspondent Robert Pigott said: "The synod needs to find a formula to square this circle if it's to stop women bishops becoming the latest issue driving Anglicans apart."
Relations with Rome
Archbishops have said, ahead of the synod meeting, they will propose new amendments to the existing draft legislation.
The Church of England decided several years ago to ordain women as bishops and remains committed to seeing that through, but the divisions it caused have always remained.
There is widespread sympathy for traditionalists on the Catholic wing of the Church who say they could not serve under women, in part, because Jesus chose only men to be his apostles and to lead the early Church.
Our correspondent points out that threats by traditionalists to leave the Church altogether "gained credibility" after Pope Benedict's offer last year of easy conversion to Catholicism.
Under the terms of the invitation offered by the Vatican, those who convert could keep many of their Anglican traditions in their own special section of the Roman Catholic Church.
Candidate rejected
Objectors to the appointment of women bishops fall broadly into two groups.
Some Anglo-Catholics believe women are precluded by the Church's teaching from being priests or bishops and that appointing them will impair relations with Rome.
Some evangelicals, meanwhile, believe the scriptures require "male headship" in families and in the Church.
But this issue could be overshadowed by a growing row over a decision by church leaders to block the appointment of a gay cleric as Bishop of Southwark.
The Very Rev Jeffrey John, who is the Dean of St Albans, was rejected as a candidate to replace the Rt Rev Dr Tom Butler, who retired earlier this year as Bishop of Southwark, despite strong support in the diocese.
Traditionalists warned that appointing Dr John, who is gay, as the new Bishop would cause "very serious damage" to the Church.
His appointment as Bishop of Reading seven years ago caused a crisis in the Church, and he was forced to stand down.
When news emerged that Dr John had been shortlisted for the post of Bishop of Southwark, evangelicals in the diocese threatened to look overseas for care from an alternative bishop.