Stagecoach boss funds heart tests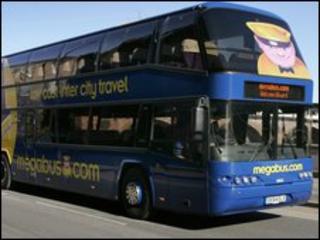 Stagecoach boss Brian Souter has waived almost quarter of his pay package to help fund a heart screening project for his employees.
The chief executive's salary stayed the same this year, at £553,000.
But he waived £250,000 of his potential performance-related bonus, which was down from £525,000 to £192,000.
In February, it was announced Mr Souter would personally commit £1m to the £2m cost of a heart screening programme for staff in the company's UK bus division.
A specially kitted out double-decker bus is touring depots and offering health checks.
Annual report
Over three or four years, it should be available to every staff member with more than three years' experience in the firm.
With other benefits taken into account, and not including a pension contribution, Mr Souter had a total pay package down from £1,095,000 in 2009 to £762,000 in this year's accounts.
The reduced pay package for the Perth-based company's co-founder was included with publication of the annual report on Thursday.
The chief executive's review of the year included a call for a change to rail franchising.
He wrote that operators should have "more freedom to invest in improving services for passengers, reduce the burden on taxpayers, cut unnecessary micro-management by government and better protect services in challenging economic times".
With improved customer satisfaction with the Virgin rail service, part-owned by Stagecoach, Mr Souter said targets should be set for customer satisfaction "with each train operating company given the latitude to determine the best way of achieving that objective".
He added that the current system did not work for operators or for the taxpayers who subsidise rail services.
Meanwhile, FirstGroup - the Aberdeen-based transport giant - has reported a cost-cutting programme across many of its services, as bus revenues rose by less than 1% in the second quarter of this year.
Chief executive Sir Moir Lockhead said it continued to face a "challenging trading environment".
The performance of its rail division has been stronger, including the FirstScotRail franchise.
Passenger revenue was up 3.7% in the first half of the year, despite regulated fares being reduced in January.