Diana's Northamptonshire home auction raises £21.1m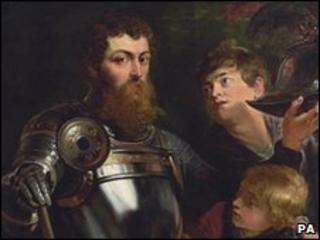 Treasures from the Northamptonshire ancestral home of Diana, Princess of Wales, have raised £21.1m after a three day auction at Christie's in London.
Items from Althorp included the 17th Century painting A Commander being Armed for Battle, by Sir Peter Paul Rubens, which fetched £9m.
A second painting, King David, by Italian artist Giovanni Francesco Barbieri fetched £5.1m.
Althorp is undergoing a £10m re-roofing and restoration project.
A group of 19th Century horse-drawn carriages from the Spencer Carriage Collection and valuables from Althorp's attics, stables and cellars also went under the hammer, realising £2m for the 757 lots - more than double pre-sale expectations.
'Carefully chosen works'
Lots on sale included butler's trays, kitchen copper jelly moulds and textiles, attracting internet bids from as far afield as Australia, China and Kazakhstan.
The Spencer State Chariot sold for £133,250 against an estimated price of £50,000 to £80,000.
The Trustees of Althorp Estate said in a statement: "For the sales this week we carefully chose a selection of works from Althorp that could be offered at public auction while maintaining the breadth and integrity of the core Spencer collections.
"The sales have released capital that will make it possible for us to further diversify our assets, particularly in the acquisition, development and retention of commercial and residential property."
Earl Spencer's Althorp Estate covers 14,000 acres of countryside in Northamptonshire, Warwickshire and Norfolk.