Live bomb found in Porthtowan pub fireplace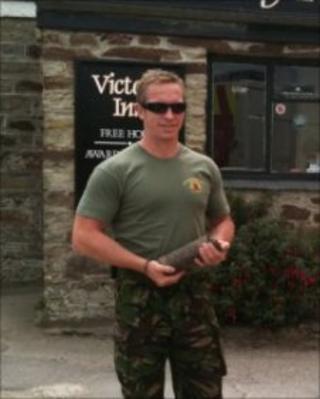 A First World War bomb was found in a disused fireplace at a pub in Cornwall.
The landlord of the Victory Inn at Porthtowan found the live device when cleaning out the fireplace.
The Royal Marine Bomb Disposal Team from Exeter removed the bomb and took it back to Plymouth where it was safely detonated.
The bomb disposal team said they believed someone had dug-up the bomb from the ground and placed it in the fireplace for "safe keeping".
Leaking gunpowder
Pub landlord, Simon Smith said: "Fortunately the fireplace is disused and hasn't been used for many years, so it was perfectly safe from that element.
"We thought that the fireplace needed a little bit of a clean-up, so when we took things out we found not only an old cannon ball, but we found this shell."
Mr Smith said that one of the locals who had previously been a bomb disposal expert identified the bomb as 'live'.
Mr Smith said: "We thought it was probably an ornamental piece, but one of locals said that the plunger hadn't been depressed and it could still be live.
"The bomb squad took one look at it to say it was live, as you could see the gunpowder leaking through."