Sarkozy 'never received regular cash from Bettencourt'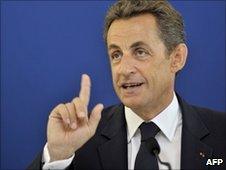 An ex-accountant for France's richest woman has said she never claimed President Nicolas Sarkozy received direct, regular donations of cash.
Claire Thibout denied saying that Mr Sarkozy took cash-stuffed envelopes from the heiress Liliane Bettencourt.
Mr Sarkozy's chief-of-staff said he had been exonerated.
However, Ms Thibout's lawyer said his client had not withdrawn claims that illegal donations were made to Mr Sarkozy's political campaign in 2007.
A spokesman for the Nanterre public prosecutor said on Thursday that Ms Thibout denied claiming that Mr Sarkozy visited Mrs Bettencourt's villa in the Paris suburb of Neuilly to collect illegal donations.
"I never said that envelopes were regularly given to Mr Sarkozy," she said in a transcript of the interview that was published in French newspapers.
Ms Thibout was also quoted as saying that she could no longer recall the date in 2007 when she withdrew 50,000 euros (£42,000) in cash that she said was later given to Labour Minister Eric Woerth, the treasurer of the governing Union for a Popular Movement (UMP).
But she stood by claims made in an interview with news website Mediapart that Mrs Bettencourt's wealth manager, Patrice de Maistre, had asked her to fetch the money and that it was added to 100,000 euros in cash withdrawn in Switzerland.
The limit for donations to political parties is set at 7,500 euros.
Ms Thibout's lawyer said investigators had put unacceptable pressure on her to retract the allegations and had denied him access.
"I consider the prosecutor's harassment of her absolutely scandalous," Antoine Gillot told the Reuters news agency.
The managing editor of the news website Mediapart, which published Ms Thibout's claims earlier this week, said the quotes in its original report were accurate.
Mr Sarkozy, Mr Woerth and Mr De Maistre have denied Ms Thibout's accusations. Ms Bettencourt's lawyer, Georges Kiejman, has said that "nothing proves" that she provided illegal campaign financing.
The allegations surfaced in connection with a trial over the estimated 17bn-euro fortune of Mrs Bettencourt, 87, whose father founded the cosmetics giant, L'Oreal.
Mrs Bettencourt's daughter Francoise is suing celebrity photographer Francois-Marie Banier, a close friend of her mother's, for allegedly exploiting her mental fragility to gain access to her fortune.
Mr Woerth has also come under scrutiny because his wife worked for the company that managed Mrs Bettencourt's fortune, and their names emerged in tapes secretly recorded by Mrs Bettencourt's butler.
The tapes suggest that Mrs Bettencourt had been making cash donations to members of the UMP including Mr Woerth, and that she had been avoiding taxes.
Mrs Woerth recently resigned from her position, and the couple have denied any conflict of interests.
Related Internet Links
The BBC is not responsible for the content of external sites.