Kent couple caught up in search for gunman Raoul Moat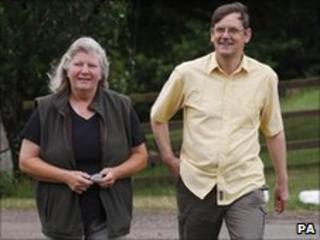 A couple from Kent on holiday in the Northumberland countryside found themselves unwittingly caught up in the police hunt for gunman Raoul Moat.
Richard Pettett, 56, and Linda Williams, 57, from Ashford, have been confined to their bed and breakfast at Wagtail Farm, in Rothbury.
The area around the farm has been the scene of a number of police searches in recent days, including Wednesday night.
"It was a bit of a night sleeping with one eye open," Mr Pettett said.
He said the police search of nearby farmland went on until about 2300 BST.
"There was at least nine or 10 fully armed police. There was a Metropolitan Police dog patrol sitting here.
"There were two other armed police with dogs just wandering round the property and up through the woods," he recalled.
Ms Williams added: "We were completely surrounded by the police but I didn't get to sleep until 3.30am this morning because I was on tenterhooks just wondering at every little sound and if something is happening.
"It was not really what we were expecting. We come up here for walking, and walking along the river, which we have not managed to do yet, and tracking the local wildlife and otters.
"But at the moment we can't do any of that. We're a little bit trapped at the moment," she said.