Cuba dissident Guillermo Farinas ends hunger strike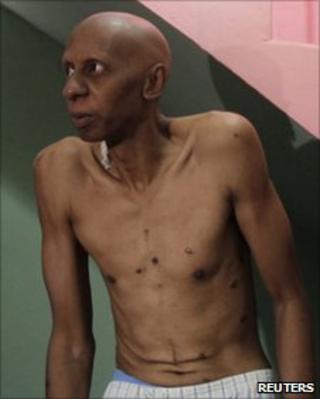 Cuban dissident Guillermo Farinas has ended his hunger strike after the government announced it was freeing 52 political prisoners.
Mr Farinas, who has been refusing food for more than 130 days, was reported to have been near death in recent days.
The death of another hunger striker in February put pressure on Cuba.
Mr Farinas began his fast after Orlando Zapata Tamayo's death following an 85-day hunger strike.
Mr Farinas told BBC Mundo that he would resume the hunger strike if the Cuban government didn't keep its promise.
"If by 7 November the prisoners are not back in their own homes, not only me but several scores of people will also declare themselves on hunger strike," he said.
The decision to release the prisoners were not motivated by concern for their welfare but for the government's own political standing, Mr Farinas said.
"This is a door that the Cuban government didn't want to open but the international pressure and the economic, political and social conditions together with the historic moment in the country forced them to open it and now nobody can close this door anymore," he added.
'Overdue'
Following Wednesday's announcement of the prisoner releases, Spain's foreign minister called on the EU to soften its Common Position on Cuba.
The 1996 policy calls for advances in human rights and democracy before relations with Cuba can be normalised.
US Secretary of State Hillary Clinton said she was encouraged by the Cuban move, which she described as "something that is overdue, but nevertheless very welcome".
The BBC's Michael Voss, in Havana, says this is the largest prisoner release for years in Cuba and may be a turning point in ties with the US and EU.
Cuba has always denied that it has political prisoners, calling them mercenaries paid by the US to undermine Havana's rule, according to our correspondent.
He says President Raul Castro has been stung by the strength of international criticism following the death of Mr Tamayo in February.