Waitrose store built on Wimborne town green opens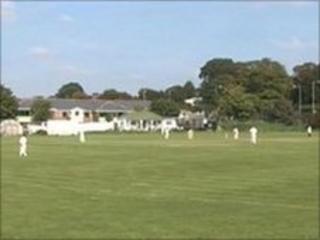 A supermarket that was controversially built on a historic cricket pitch in Dorset has opened.
Waitrose was given permission to build the new store on Rowlands Hill in Wimborne Minster despite protests from some residents.
Wimborne Cricket Club moved to a new ground on the outskirts of town which was provided by the supermarket chain as part of the agreement.
East Dorset District Council approved the plans in 2009 despite objections.
Recommended refusal
Planning officers had recommended that the application be refused but councillors on a planning committee voted for the development.
The opinion among residents had been split. The council said it received 450 letters in support and 453 against.
The cricket club, which supported the plans, began using its new ground at The Leaze at the beginning of the 2010 season.
Originally known as Hanham's Cricket Club, Wimborne Cricket Club was established in 1793 and is believed to have used the green as its ground since 1860. The white pavilion was built in 1913.
The planning agreement also stated that Waitrose had to provide a public space next to the River Allen, construct a pedestrian link to the site and provide £150,000 to improve road access to Wimborne.