South East fishing quota at 'crisis point'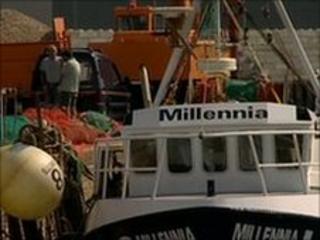 Kent fishermen claim they will be forced to stay in port for the rest of the year unless the government can secure an increase in their quota.
Owners of boats under 10m (33ft), based in Whitstable, said the amount of fish they were now allowed to catch in the North Sea was not enough to survive.
They said their skate quota had ended and they expected their Dover sole allowance to finish within a few days.
The EU has promised to reform the system in 2011.
Vessels up to 10m long make up 93% of the UK fishing fleet but only receive 3% of the quota.
'Crisis point'
Phil Edwards said he relied on Dover sole to make a living but from the end of the week he would no long be allowed to catch the species until next year.
He added: "We started off the year with a quota of a tonne a month, then that was reduced to 500Kg a month and now it is going to be stopped completely.
"We ran out of our skate quota last month. We were still allowed to catch sole last month but there was so much skate in the sea you can't get away from it.
"We were having hauls where we were throwing five boxes of skate back over the side.
"There's not enough in the pot to keep the small boats going."
In previous years when smaller fishermen have come to the end of one particular quota the government has traded another quota to increase their allowance.
Canterbury MP Julian Brazier said it appeared that no swap had been done this year and the situation was reaching crisis point.
Fisheries Minister Richard Benyon said: "We are doing all we can to make sure that we can [continue] swapping quotas to keep them going, in the short term.
"In the long term really what we need is a complete reforming of the common fisheries policy."
EU commissioner Maria Damanaki said: "A reform is currently being prepared and will be presented in the course of 2011.
"I am convinced that we can move to sustainable fishing and I am also convinced that we can do it in a way which allows our fishermen and their families to make a decent living from their activity and which will bring a more profitable fishing industry for our coastal regions throughout Europe."