Two jailed over dumbbell murder in Stevenage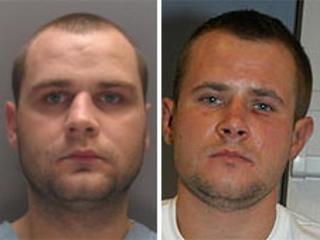 Two men have been jailed for life for bludgeoning to death a 26-year-old man in Hertfordshire.
Jaroslaw Kowalski died after being struck with a dumbbell bar at his flat in Stevenage, Hertfordshire, in July last year.
Marcin Skibicki, 29, of Bute Street, Luton, and Pawal Pilipow, 25, of Rye Close, Stevenage, were found guilty of his murder.
They were both sentenced to life imprisonment at Luton Crown Court.
Pilipow was given a minimum term of 17 years and Skibicki received a minimum term of 16 and a half years.
Prosecutor Michael Speak had previously told the jury that the two defendants attacked Mr Kowalski for reasons which "remain obscure".
Mr Kowalski had 47 separate injuries on his head, face and body and a fractured skull, and died shortly after being found in the room in Vardon Road.
Det Insp Sharn Basra, from the Bedfordshire and Hertfordshire Major Crime Unit said: "This was a horrific and brutal attack during which Pawel Pilipow and Marcin Skibicki humiliated and left their one-time friend fighting for his life.
"Jaroslaw Kowalski was found by his roommate several hours later, by which time it was too late.
"He died of his injuries shortly after being found. Although the motive for the murder was never known, the attack was certainly fuelled by alcohol."
The court heard that Mr Kowalski came to England with dreams of a better life for himself and so he could provide for his family back home.
Det Insp Basra added that "these dreams were shattered and his family have had a loved one taken from them."