UK soldier killed in Afghanistan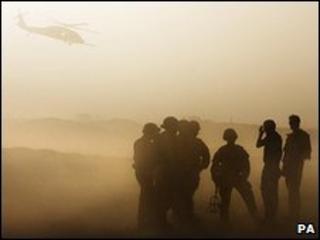 A British soldier has been killed in an explosion while on a foot patrol in Afghanistan, the MoD has said.
The soldier, from the 5th Regiment Royal Artillery, was killed in the Sangin District of Helmand on Thursday morning. His family have been told.
He is the 313th member of the UK Armed Forces to die in Afghanistan since 2001 and the 100th death to occur in Sangin.
It comes the day after the government announced the area would be handed to US Marines by the end of the year.
Spokesman for Task Force Helmand, Lt Col James Carr-Smith, said: "He was part of a patrol that was seeking to exploit freedom of movement for local Afghans, ISAF and Afghan Security Forces when tragically he was killed in an explosion.
"He died doing his duty, alongside his mates, whilst seeking to improve the lives of ordinary Afghans. He will be missed by us all and his actions will not be forgotten. We will remember him."
Defence Secretary Liam Fox said on Wednesday that about 1,000 Royal Marines are expected to leave Sangin and be redeployed to central Helmand by the end of 2010.
A US Marines battle group will be moved from Nimruz Province to take control in Sangin, leaving the British military effort concentrated in central Helmand.