Eyemouth golf club blaze debris poses 'no risk'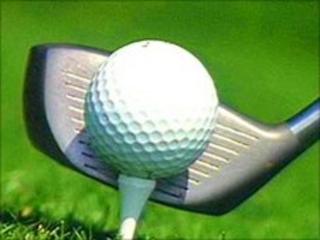 Health officials have said there is no risk to the public from debris left after a fire at a Borders golf course.
A firefighter was airlifted to hospital after being hurt while dealing with the blaze in Eyemouth on Wednesday.
He was injured when a greenkeeper's shed containing a number of chemicals collapsed.
NHS Borders said a small amount of white asbestos had been found during clean-up operations and full decontamination would now take place.
About 35 staff from Lothian and Borders Fire and Rescue were called to the Gunsgreenhill course when the fire was at its peak.
One of them is understood to have suffered a broken leg when part of the building collapsed.
There were initial concerns that chemicals contained in the shed might catch fire.
Cleared quickly
Dr Eric Baijal, joint director of public health for NHS Borders and Scottish Borders Council, said none of the chemicals posed any risk to health.
However, an access road to the course will remain closed while the debris is cleaned up.
Dr Baijal said: "White asbestos is the most common form used in building materials up until very recently and it only poses a risk where there is prolonged exposure, in a confined space.
"The debris from the fire will be cleared away very quickly, in line with guidance from the relevant agencies.
"This will be done as soon as possible and golfers will be free to resume playing on the course.
"I would stress that there is no risk to public health given the location and contained nature of the incident."