Gang 'picks up penguin' from Dublin city zoo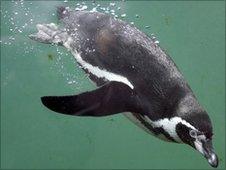 A penguin has been found wandering the streets of Dublin after she was stolen from the zoo in a suspected prank.
The penguin was kidnapped by a gang of men at about 0800 BST from the Phoenix Park in the capital of the Irish Republic.
It was discovered several hours later a few miles away in the north of the city.
It is thought the men broke into the zoo and smuggled the penguin out in a bag before making off in a taxi.
Gardai said officers were alerted to the theft on Thursday morning.
In a statement, Dublin Zoo described the theft as an annoyance and "not amusing".
"Dublin Zoo confirms that a penguin which had been missing has been returned," a zoo official said.
"The penguin went missing this morning at 8am but due to the security measures that are in place at Dublin Zoo and the rapid response of gardai, the penguin was soon recovered and returned.
"Dublin Zoo was naturally relieved that the animal was returned safe and unharmed and back at the zoo."
The spokesman said the zoo was very annoyed and felt that the incident was neither frivolous nor amusing.