Raoul Moat: Timeless tactics in a modern manhunt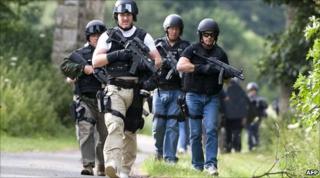 Police have employed an array of technology in their hunt of a suspected gunman on the run in Northumberland. But they have also used more timeless tactics.
Officers from eight UK police forces are taking part in the search for 37-year-old former bouncer Raoul Moat, who is suspected of shooting three people, killing one.
With Moat believed to be hiding out in a remote national park, the operation has drawn parallels with previous searches such as the 1966 hunt for Harry Roberts.
After shooting dead two police officers in Shepherd's Bush, west London, Roberts went on the run and evaded police for three months by camping in Epping Forest, Essex.
Back then, police across the country were mobilised in a bid to track down the killer. At various points officers searched a train at Hereford, a plane at Liverpool and were called to false alarms in Hertfordshire, Cumbria and south-east London.
Search organiser, Deputy Commander CP Attwood, promised "vehicles of all kinds" were being employed.
"Everywhere we have considered likely has been subjected to at least three different kinds of search, by men on foot, by dogs and by mounted officers," he told the Times.
However, the paper's digital archive reveals it was five days before armed officers were employed.
Former firearms officers Andy Redhead says police firearms availability would have fallen far short of today's standards.
"Even 25 years ago, it was a mix of firearms-trained CID and uniformed officers scattered all over the place. When an incident happened, the control room would have been ringing around frantically to see who was available," he says.
Now, forces across the country have 24-hour armed cover.
Mr Redhead, a veteran of 20 years' Metropolitan Police surveillance, anti-terrorist and Royal or political protection operations, says structures are in place to allow officers from other forces to slot in to an operational hierarchy.
Technology has also moved on.
"We've got air support and thermal imaging cameras, which are superb at picking up heat sources to confirm a person's presence. Helicopters also have 'night sun' equipment which can light up an area the size of a football pitch from 700 metres.
"Even police dogs are trained specifically to work with firearms officers," adds Mr Redhead, who now works for private security firm Sec-Tech.
In Moat's case, the RAF has also been helping the search by flying over a Tornado reconnaissance aircraft complete with infrared camera.
Add to this the UK's CCTV network and the ability to track cars using thousands of automatic number plate recognition cameras and you might ask why suspected gunmen like Moat are not caught within hours.
'Give yourself up'
The answer, according to Dr Kate Painter, is that the technology is of little use.
"You can have as much technology as you want but ultimately it's the public who solve crime," says the University of Cambridge criminology expert.
"DNA evidence has been a breakthrough but the police largely rely on the public's help to trace people."
Indeed, despite the array of hi-tech aids, many of the police tactics mirror those of nearly 45 years ago.
Harry Roberts had been missing a fortnight when his mother made an impassioned plea on television for him to give himself up:
"I ask you from the bottom of my heart to come into the open and give yourself up. If you make an appointment with me, I will come with you. The whole thing is killing me."
In Moat's case, his ex-partner Samantha Stobbart pleaded: "Give yourself up. If you still love me and our baby you would not be doing this."
Moat's uncle, Charlie Alexander, unwittingly almost repeated the request of Roberts' mother: "If he would get in touch I would be prepared to meet him."
For Dr Painter, who has been researching multiple shootings in the wake of Derrick Bird's attacks across Cumbria, these "emotional tools" are almost certainly ineffective when a suspect is "holed up" in a rural area with a stock of food to live off.
"These guys won't respond to such appeals because they're not in the real world," she says.
However, she admits they could help persuade members of the public to help police with that vital piece of information needed to locate a gunman.
Prof David Wilson says the police have been using the media as an "investigative tool" for decades.
One strategy in such cases is to use press conferences to prevent what criminologists call "future foreshortening" - when gunmen force police into helping them go out "in a blaze of glory", he says.
'Drunk on power'
"In saying 'remember your children' they try to make a suspect think beyond the next day," says Prof Wilson, of Birmingham City University.
By painting a suspect in as bad a light as possible - and, in Moat's case, offering a £10,000 reward for arrest - officers try to turn anyone among the public who might be offering protection against them, he adds.
And while police are under public pressure to find suspects as quickly as possible, Prof Wilson says the longer someone is on the run, the greater their chances of being captured alive.
"At the beginning of an incident, the perpetrator is drunk on power. Over time, their sense of invincibility is greatly reduced and sleeping rough takes its toll."
However, while police use media coverage as a tool it also has its disadvantages, Dr Painter warns.
With 24-hour rolling news allowing suspects to see exactly what police are saying about them, they may thrive on the infamy. And, adds Dr Painter, there is always the danger of inspiring copycat offences.