Big burgers 'damage jaws', say dentists in Taiwan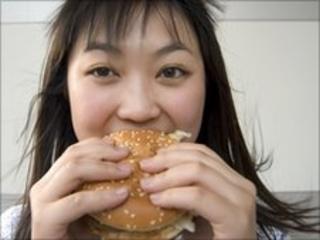 Fast food restaurants in Taiwan have been urged to drop big burgers from their menus amid a growing number of jaw injuries, according to a report.
Patients have had difficulty opening their mouths after munching giant burgers, said Professor Hsu Ming-lung, of National Yang-Ming University.
Problems can arise when tucking into burgers higher than 8cm (3ins), Hsu was quoted as saying by the China Post.
Hamburger-related injuries are on the rise, he warned.
He called on fast food restaurants to limit the size of their hamburgers to prevent the public from quite literally biting off more than they can chew.