Jury retires in Wearside Shakespeare-theft case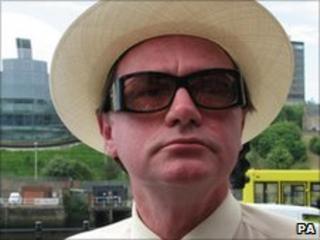 The jury in the case of a man accused of stealing a £1m Shakespeare folio has retired to consider its verdict.
Raymond Scott, 53, of Wingate, County Durham, has denied stealing the Bard work dating from 1623 from a glass cabinet at Durham University in 1998.
Newcastle Crown Court has heard how he now accepted that the relic was stolen but that he did not take it. He did not give evidence during the trial.
Mr Scott, of Manor Grange, denies theft and handling stolen goods.
The jury has also heard how he kept the badly-damaged, 17th Century book at his house for a decade before taking it to the Folger library in Washington DC where staff called police.
He was hoping to sell it at auction and share the money with friends in Cuba, the court has heard.
'Doubtful provenance'
The 387-year-old relic was shown to the court during the trial in a padlocked, black plastic strongbox and presented on a pillow next to the witness box.
The jury has also heard how Mr Scott told Durham Police detectives: "It is sort of like a conspiracy - they are ganging up against me.
"Do you seriously think I'm going to walk into the foremost Shakespeare library in the world and using my own name and address, with my fingerprints all over it, hand them a copy knowing and believing that it's got a doubtful provenance?
"A book worth millions - that I'm going to walk into such a place with such a book and ask to see the head librarian?"