Orange Order to hold DUP talks on draft parading bill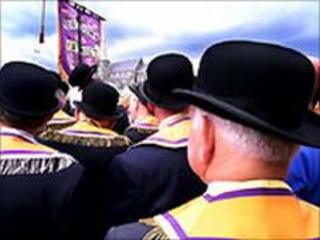 The DUP is to hold talks with the Orange Order after the organisation voted against draft legislation on parading.
Thirty-seven members of the Grand Lodge voted against the proposals which were agreed between the DUP and Sinn Fein following the Hillsborough Agreement.
DUP MLA Edwin Poots said he believes a solution involving the loyal orders can still be found.
It is understood the DUP believes the proposals need Orange Order backing.
In a thinly veiled reference to the Ulster Unionist Party, Mr Poots accused other politicians of "using" the Orange Order for their own ends.
"They want to use and abuse the Orange Order and put them in a worse position, simply to get one up on the DUP."
The Order have said they will meet soon to discuss the vote and look at the code of conduct which is out for consultation until September.
In a statement on Wednesday, it said it was not prepared to accept the draft law "in its present form".
Thirty-seven Lodge officers voted against and 32 voted for the proposals. There were four abstentions when the Order held its vote in County Tyrone on Tuesday evening.