US Gen James Mattis nominated to replace Petraeus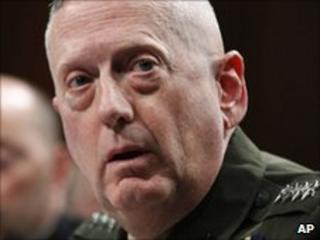 Marine Corps Gen James Mattis has been nominated to replace Gen David Petraeus as head of US Central Command.
The Senate must confirm the nomination by Defence Secretary Robert Gates.
Central Command covers an area from the Horn of Africa into Central Asia and includes all US military operations in Iraq and Afghanistan.
Gen Petraeus was confirmed last week as the new US commander in Afghanistan following the dismissal of Gen Stanley McChrystal by President Barack Obama.
Gen McChrystal and his aides caused controversy after making derogatory remarks about senior civilian officials in a magazine article.
A counterinsurgency expert, Gen Mattis led the US military's assault on the Iraqi city of Falluja in 2004.
Speaking to reporters on Thursday, Mr Gates said: "The post General Mattis is taking is a critical one at a critical time."
He described Gen Mattis as one of the US military's "outstanding combat leaders and strategic thinkers".
He also praised the general's insight into the way the military had to shape itself for the future.