Gunman Moat 'has made threats to wider public'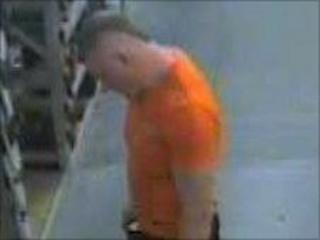 Fugitive gunman Raoul Moat has made threats to the wider public, police have revealed.
He has been on the run since his ex-girlfriend, her new partner - who was killed - and a police officer were shot on Tyneside at the weekend.
It had been thought that his main grievance was directed towards the police, but it has now emerged that members of the public could be at risk.
But police said there was no specific threat to the people of Rothbury.
On Thursday evening police held a meeting with local people at the town's Jubilee Hall, and told them there was a heightened risk but that no specific threat had been made to Rothbury.
Police have also agreed to station officers outside schools in the town to reassure parents and pupils.
Addressing the meeting of about 2,000, Acting Chief Constable Sue Sim said: "If you are telling us you would prefer to have police officers at the schools, you can have police officers at the schools."
The promise came after Ch Supt Mark Dennett told the meeting that the decision to keep schools open while the gunman was believed to be in the area was down to individual head teachers.
He said: "There is no specific threat against the schools, children or anybody else in the Rothbury area."
Police have confirmed that a man arrested in Wrekenton, Gateshead, on Tuesday has been released without charge.
Two other men who were arrested on suspicion of assisting an offender in the Rothbury area on Wednesday have been released on bail pending further inquiries.
Police are also appealing for a member of the public who contacted them about a vehicle potentially involved in the investigation to ring back.
Moat, a former nightclub bouncer, is alleged to have shot and injured his former girlfriend Samantha Stobbart, 22, and killed her new partner Chris Brown, 29, in Birtley, Gateshead, on Saturday.
Pc David Rathband, 42, was shot in his patrol car in Newcastle on Sunday.
Detectives had previously said they believed Moat's main target was the police and a letter purportedly sent by Moat to the force earlier in the week said: "The public need not fear me but the police should as I won't stop till I'm dead."
But at Thursday's media conference, Det Ch Supt Neil Adamson said: "Information has come to our attention about a wider threat to the public from Mr Moat.
"I am not prepared to comment further on this."
He added that "based on intelligence and advice" it was still believed that Moat remained in the vicinity of Rothbury.
Before the most recent arrests, two men appeared before Newcastle Magistrates' Court charged with conspiracy to commit murder and possessing a firearm with intent.
Karl Ness, 26, and Qhuram Awan, 23, are accused of supplying Moat with the gun involved in the shootings.
Mr Ness, from Dudley in North Tyneside, and Mr Awan, from Blyth in Northumberland, were remanded in custody until 22 July.
Police believe Mr Ness and Mr Awan were with Moat when he shot Pc Rathband. But lawyers for the pair deny their clients were involved.
Mr Adamson revealed the latest men to be held had been arrested on Wednesday.
"Around teatime yesterday, a further two men were arrested in the vicinity of Rothbury on suspicion of assisting an offender," he said.
"Both men are currently in custody and we are pursuing a range of inquiries in relation to this matter."
He went on to appeal to "an individual" who rang police on Wednesday night to get in touch.
The call related to a vehicle involved in the inquiry, but no details of it were being released, due to "investigative reasons".
Ms Sim said the Northumbria force "had the resources" to deal with any threat to the public from Moat.
She said that an armoured vehicle had been drafted in to help search the heavily wooded area and the force had sought advice from the Serious Organised Crime Agency and the military.
She added: "Our intention remains to apprehend Raoul Moat safely and bring this to an end."
Police have also released recent CCTV images of Moat - taken at a shop in Newcastle on Friday, hours before the shootings.
Temporary Deputy Chief Constable Jim Campbell said: "He looks different in these images compared to previous photographs, and in particular show his hairstyle, what he was wearing, and the fact he seems to have lost weight."