Whistleblower helps convict Exeter drugs mastermind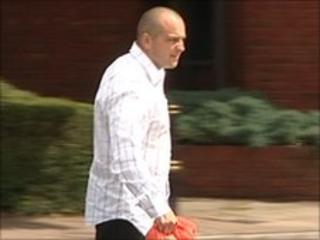 A two-year surveillance operation and whistle-blower led to the conviction of a south-west England drugs mastermind.
Shaun Pepperell, of Exeter, and seven other men pleaded guilty to conspiring to supply class A and Class B drugs.
Pepperell used drivers to collect cannabis and cocaine and distribute them across the region.
Number-plate recognition cameras and photographs were used to build a bank of evidence against the gang, Exeter Crown Court heard.
Police informant
Pepperell was a former builder and junior football coach but used a house on Burnthouse Lane in Exeter to mastermind the importation of drugs, paying drivers £100 a time to buy and distribute the cannabis and cocaine across the region.
But it was one of Pepperell's couriers who turned informant and worked with the police to convict the gang.
He told police that about two kilos of cocaine changed hands on each run, and amounts of up to £70,000 were handled.
He also said motorway junctions on the M4 were often used to orchestrate the "hand-overs".
Junction 15 on the M4 was used to exchange cocaine while Junction 17 was regularly used for cannabis deals.
The police followed Pepperell on 80 occasions between January and November 2008, using mobile phone records to build up evidence.
In images taken of the deals Pepperell was seen directing the drivers and liaising with suppliers, as well as taking the profits.
Det Con Clive Watson, of Devon and Cornwall police's Serious Organised Crime Investigation Team said: "We identified a network coming from London, they had contacts in Bedford, Southampton, Reading.
"There were exchanges of drugs in the Swindon area, as well as the M25 in London, so there was an established supplier over many years, probably from London coming down into Devon."
At Exeter Crown Court, Pepperell and his seven drivers initially pleaded not guilty to conspiring to supply Class A and Class B drugs but changed their pleas to guilty.
Pepperell was given three sentences, the longest being 13-and-a-half years.
Whipton men Jason Hutchings, 38, was sentenced to eight-and-a-half-years and Neil Western, 36, was given five years and nine months.
Twenty-year-old Matthew Mingo of Coleford, Crediton was jailed for five years.
Gavin Squires, 32, of Tedburn St Mary, and 61-year-old Patrick Hurley of Wonford, Exeter were both jailed for 21 months.
Christopher Land, 27, from St Thomas, Exeter, was sentenced to 19 months, and Joshua Sprague, also of St Thomas, was given nine months, suspended for two years. He will also have a weekend curfew.
Sentencing Pepperell, Judge Graham Cottle said: "You were prepared to play for high stakes, reaping the rewards using others to do your dirty work."