Girls who carried out 'degrading' assault locked up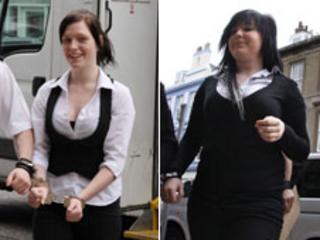 Two teenage girls who carried out a prolonged "degrading" assault on a vulnerable man have been locked up.
Paige Sharp, 16, and Danielle Sinclair, 17, admitted assaulting the 21-year-old man, who suffered from learning difficulties.
The victim suffered 16 separate injuries during the incident in Arbroath in March.
Sharpe will serve 15 months and Sinclair two years in a young offenders institution.
The pair were sentenced by Sheriff Kevin Veal at Arbroath Sheriff Court.
He said court reports showed the girls' victim still suffered pain from his ordeal and was now afraid to go out on his own and had difficulty sleeping.
Demeaning actions
Describing their conduct as "truly appalling", Sheriff Veal said that drink and drugs were no excuse for the girls' conduct.
During an earlier hearing the public benches were cleared as footage from a mobile phone was shown to the court.
It featured the 21-year-old man being beaten and sworn at.
He was then sexually assaulted with a vacuum cleaner and was heard to shout and scream.
The court heard Sharp, who was only 15 at the time, and Sinclair launched their attack because they believed their victim had sexually assaulted Sinclair.
It also heard drink and drugs had been taken, including mephedrone, but apparently not by Sinclair.
The victim himself told police he was "wasted" on "Bubbles" - the street name for mephedrone - and on cannabis at the time of the assault.
Lawyers for both girls told Arbroath Sheriff Court they were deeply ashamed of what they had done.