Trampoline sex offender in court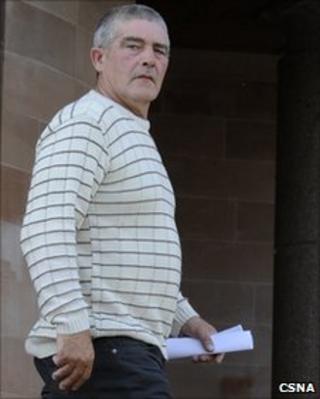 A man caught jumping up and down naked on a trampoline has been placed on the sex offenders register.
James Burden, 55, was spotted by a neighbour in the garden of his Falkirk home at 0500 GMT on 25 March.
Falkirk Sheriff Court heard Burden had his "manhood" in one hand and a cigarette in the other when the neighbour saw him.
Burden, who had earlier pleaded guilty to shameless indecency, will be sentenced later this month.
Prosecutor Mike McMahon said the female witness, who lives in a block of four flats in Westquarter, Falkirk, had got up from bed to go to her bathroom in the early hours.
As she passed her kitchen window, she saw Burden in the back garden.
The fiscal depute said: "He was naked. He had a cigarette in one hand and his penis in the other."
When interviewed by police, the woman "described Burden as being as bold as brass and purposeful".
He later told police he had taken to the trampoline, "just for the thrill of it".