Greeks strike before pension vote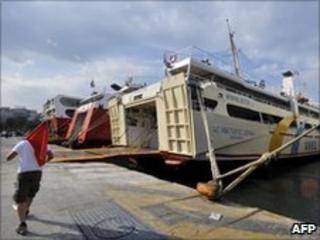 Greeks are staging their sixth general strike of 2010, protesting against austerity measures aimed at addressing Greece's financial crisis.
The strike has closed down public services and disrupted transport.
Thousands of people staged peaceful marches in Athens and Thessaloniki, though turnout was reported to be lower than at previous rallies.
The protest came as parliament was expected to approve a pension reform opposed by left-wing unions.
The reform, which would raise the retirement age to 65, is part of an austerity package agreed with the EU and the International Monetary Fund (IMF) in return for a 110bn euro (£89bn) bail-out.
Parliament gave initial approval to the pension reform late on Wednesday, and was to vote on Thursday on individual articles of the bill.
The Greek government is aiming to slash the budget deficit from 13.6% of gross domestic product (GDP) to below 3% by 2014.
Some of those marching in Athens carried banners attacking the EU and the IMF.
They also chanted slogans accusing Prime Minister George Papandreou of favouring bankers and big business as he pushes through spending cuts.
Union posters put up around Athens ahead of Thursday's strike read: "All together so that the collapse of the social security system does not pass."
Schools, hospitals and newspaper offices were shut for the strike.
Air traffic controllers joined the protest and dozens of domestic and international flights were cancelled.
Trains and local buses were not running, and - as in previous strikes - holiday ferries to the Greek islands were blocked.